Pfizer AG - Pfizer PFE Switzerland GmbH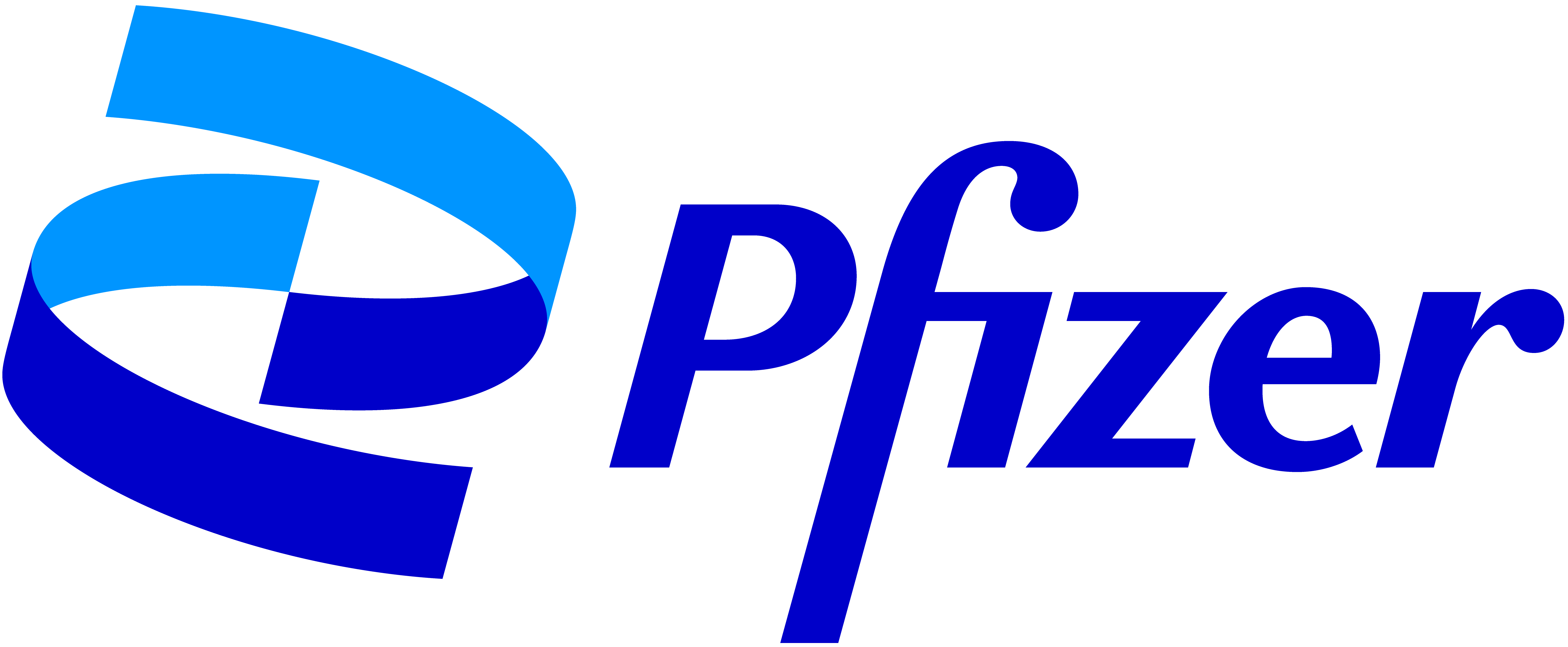 About
DE: Pfizer erforscht und entwickelt seit über 170 Jahren innovative Arzneimittel. Und damals wie heute gilt: die medizinischen Herausforderungen dulden keinen Aufschub und wir streben bahnbrechende neue Therapien an, die in Prävention und Behandlung von weit verbreiteten, aber auch von seltenen Erkrankungen das Leben von Patientinnen und Patienten verbessern können.
In der Forschung sind wir weltweit führend. Wir nutzen unsere wissenschaftliche Expertise und unsere weltweiten Möglichkeiten, um die Lebensqualität und Gesundheit in jedem Lebensabschnitt zu verbessern.
Wir alle bei Pfizer haben ein gemeinsames Ziel: Ihre Gesundheit. Deshalb entwickeln wir innovative Medikamente, die helfen, Krankheiten zu verhindern, zu heilen oder erträglicher zu machen. Wir wollen, dass alle, denen unsere Therapien von Nutzen sind, diese auch erhalten

FR: Pfizer consacre depuis plus de 170 ans ses activités à la recherche et au développement de médicaments novateurs. Ce qui valait alors est encore valable aujourd'hui : les grands défis médicaux ne sauraient attendre ; il faut les relever. Voilà pourquoi nous nous efforçons de développer des innovations thérapeutiques majeures, susceptibles d'améliorer la vie des patientes et des patients, tant par la prévention et le traitement des maladies courantes que des maladies rares.
Nous sommes un leader mondial de la recherche. Nous mettons à profit notre expertise scientifique et toutes les possibilités de collaboration disponibles à travers le monde afin d'améliorer la qualité de vie et la santé à tous les âges.
Chez Pfizer, nous avons toutes et tous un seul et même objectif : votre santé. C'est la raison pour laquelle nous développons des médicaments novateurs qui empêchent l'apparition de maladies, qui permettent de les guérir ou de les rendre plus supportables. Nous voulons que toutes les personnes à qui nos traitements peuvent être utiles puissent y avoir accès.
Address
Schärenmoosstrasse 99
Postfach
8052 Zürich

Contact details
Medical Information phone number
+41-43-4957111
Hours of operation
Montag - Freitag: 8:00 – 17:00 h
Medical Information website
www.pfizermedicalinformation.ch
Medical Information email
medical.information@pfizer.com
Adverse events and product complaints
DE: Falls Sie eine unerwünschte Arzneimittelwirkung oder eine Produktbeanstandung melden möchten, verwenden Sie bitte folgendes Formular:
https://www.pfizer.ch/de/de-unternehmen/de-pfizer-schweiz/de-kontakt/de-unerwünschte-arzneimittelwirkung-produktbeanstandung-melden

FR: En cas d'événement indésirable suspecté ou de la réclamation concernant un produit, veuillez contacter le département de Pharmacovigilance Pfizer par le lien suivant: https://www.pfizer.ch/fr/fr-entreprise/fr-pfizer-suisse/fr-contact/fr-meldungen
Company Website
www.pfizer.ch
Pfizer products
Medicinal products marked with▼are subject to additional monitoring. This will allow quick identification of new safety information. You can help by reporting any side effects you may get.
0-9
a
b
c
d
e
f
g
h
i
j
k
l
m
n
o
p
q
r
s
t
u
v
w
x
y
z
ABRILADA ▼
(adalimumab)
ABRYSVO ▼
(respiratory syncytial virus vaccine, bivalent, recombinant)
ACCUPRO
(quinapril HCl)
ACCURETIC
(quinapril HCl, hydrochlorothiazide)
ADRIBLASTIN RD/- SOLUTION
(doxorubicin HCl)
ALDACTONE
(spironolactone)
ANIDULAFUNGIN PFIZER
(anidulafungin)
ARICEPT /- EVESS
(donepezil HCl)
AROMASIN
(exemestane)
ARTHROTEC
(misoprostol, diclofenac sodium)
ATORVA PFIZER
(atorvastatin calcium)
AZITHROMYCIN PFIZER
(azithromycin)
BENEFIX
(nonacog alfa)
BESPONSA
(inotuzumab ozogamicin)
CABASER
(cabergoline)
CAMPTO
(irinotecan HCl)
CAVERJECT/- DC
(alprostadil)
CHAMPIX
(varenicline tartrate)
CIBINQO ▼
(abrocitinib)
CLINDAMYCIN PFIZER
(clindamycin HCl/- phosphate/- palmitate)
COMIRNATY COVID-19 mRNA vaccine ▼
((tozinameran or tozinameran/riltozinameran))
CRESEMBA
(isavuconazole)
CYTOSAR SOLUTION
(cytarabine)
CYTOTEC
(misoprostol)
DALACIN C
(clindamycin HCl/- phosphate/- palmitate)
DALACIN T
(clindamycin phosphate)
DALACIN V
(clindamycin phosphate)
DAUNOBLASTIN
(daunorubicin HCl)
DEMETRIN
(prazepam)
DEPO-MEDROL
(methylprednisolone acetate)
DEPO-MEDROL LIDOCAINE
(methylprednisolone acetate, lidocaine HCl)
DEPO-PROVERA
(medroxyprogesterone acetate)
DIFLUCAN
(fluconazole)
DILZEM
(diltiazem)
DOSTINEX
(cabergoline)
ECALTA
(anidulafungin)
EDRONAX
(reboxetine)
ELETRIPTAN PFIZER
(eletriptan HBr)
ENBREL
(etanercept)
FARLUTAL
(medroxyprogesterone acetate)
FARMORUBICIN RD/- SOLUTION
(epirubicin HCl)
FELDEN
(piroxicam)
FLUCONAZOL PFIZER
(fluconazole)
FRAGMIN
(dalteparin sodium)
FSME-IMMUN 0.25 ml JUNIOR
(tick-borne encephalitis vaccine, whole virus, inactivated)
FSME-IMMUN CC
(tick-borne encephalitis vaccine, whole virus, inactivated)
HALCION
(triazolam)
HARMONET
(gestodene, ethinyl estradiol)
HUMATIN
(paromomycin sulfate)
IBRANCE
(palbociclib)
INFLECTRA
(infliximab)
LATANOPROST PFIZER
(latanoprost)
LINEZOLID PFIZER
(linezolid)
MEDROL
(methylprednisolone)
MERONEM I.V.
(meropenem)
METHOTREXAT PFIZER
(methotrexate)
MINESSE
(gestodene, ethinyl estradiol)
MINULET
(gestodene, ethinyl estradiol)
MYCOBUTIN
(rifabutin)
MYLOTARG
(gemtuzumab ozogamicin)
NEISVAC-C
(meningococcal group C polysaccharide conjugate vaccine adsorbed)
PAXLOVID ▼
((nirmatrelvir [PF-07321332]/ritonavir))
PEMETREXED PFIZER
(pemetrexed)
PETINUTIN
(mesuximide)
PONSTAN
(mefenamic acid)
PREVENAR 13
(pneumococcal 13-valent conjugate vaccine - diphtheria CRM197 protein)
PROSTIN E2
(dinoprostone)
PROSTIN VR
(alprostadil)
REFACTO AF FUSENGO
(antihemophilic factor (recombinant))
SALAZOPYRIN /- EN
(sulfasalazine)
SAYANA
(medroxyprogesterone acetate)
SINQUAN
(doxepin HCl)
SOLU-CORTEF
(hydrocortisone sodium succinate)
SOLU-MEDROL
(methylprednisolone sodium succinate)
SOLU-MODERIN
(methylprednisolone sodium succinate)
SOMAVERT
(pegvisomant)
SUTENT
(sunitinib malate)
TALZENNA
(talazoparib tosylate)
TAZOBAC
(piperacillin, tazobactam)
TEMESTA/- EXPIDET
(lorazepam)
TOMUDEX
(raltitrexed)
TOVIAZ
(fesoterodine fumarate)
TRAZIMERA
(trastuzumab)
TYGACIL
(tigecycline)
VFEND
(voriconazole)
VIBRAMYCIN TABS/- AKNE TABS
(doxycycline)
VIBRAVENOES
(doxycycline hyclate)
VINCRISTINE PFIZER
(vincristine)
VORICONAZOL PFIZER
(voriconazole)
VYNDAQEL ▼
(tafamidis/- meglumine)
ZAVEDOS
(idarubicin HCl)
ZAVICEFTA
(ceftazidime, avibactam sodium)
ZINFORO
(ceftaroline fosamil)
ZIRABEV ▼
(bevacizumab)
ZITHROMAX
(azithromycin)
ZYVOXID
(linezolid)
0-9
a
b
c
d
e
f
g
h
i
j
k
l
m
n
o
p
q
r
s
t
u
v
w
x
y
z
Last updated: 05/09/2023