Takeda Pharma Vertrieb GmbH & Co. KG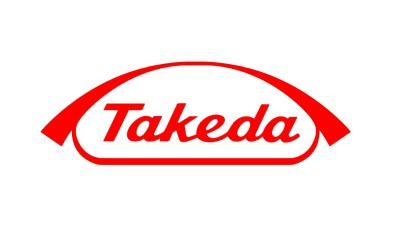 About

Takeda ist ein patientenorientiertes, innovatives und global führendes biopharmazeutisches Unternehmen. Unsere Leidenschaft hat ihre Wurzeln in Japan und in unserer mehr als 240-jährigen Geschichte. Wir streben danach, Patienten auf der ganzen Welt mit wegweisenden medizinischen Innovationen eine bessere Gesundheit und eine schönere Zukunft zu ermöglichen.
Address
Takeda Pharma Vertrieb GmbH & Co. KG
Jägerstr. 27
10117 Berlin

Takeda products
Medicinal products marked with▼are subject to additional monitoring. This will allow quick identification of new safety information. You can help by reporting any side effects you may get.
0-9
a
b
c
d
e
f
g
h
i
j
k
l
m
n
o
p
q
r
s
t
u
v
w
x
y
z
Adcetris ▼
(Brentuximab Vedotin)
Advate
(rekombinanter Blutgerinnungsfaktor VIII Octocog alfa)
Adynovi ▼
(rekombinanter Blutgerinnungsfaktor VIII Rurioctocog alfa pegol)
Agopton
(Lansoprazol)
Alofisel ▼
(Darvadstrocel)
Alunbrig ▼
(Brigatinib)
AT III NF
(Aus Humanplasma gewonnenes Antithrombin III)
Ceprotin
(Protein C aus humanem Plasma, gereinigt durch monoklonale Mausantikörper)
Cinryze ▼
(C1-Inhibitor vom Menschen)
Cuvitru
(Normales Immunglobulin vom Menschen)
Ebrantil Hartkapseln
(Urapidil)
Ebrantil Injektionslösung i.v.
(Urapidilhydrochlorid)
Edarbi
(Azilsartanmedoxomil)
Elaprase ▼
(Idursulfase)
Elvanse /-Adult
(Lisdexamfetamindimesilat)
Enantone
(Leuprorelinacetat)
Enantone-Gyn 3,75 mg
(Leuprorelinacetat)
Entyvio
(Vedolizumab)
Equasym Retard
(Methylphenidathydrochlorid)
Feiba NF
(Faktor VIII-Inibitor-Bypassing-Aktivität (human))
Firazyr
(Icatibant)
Gammagard S/D
(Normales Immunglobulin vom Menschen)
Human Albumin Baxalta
(Aus menschlichem Plasma gewonnene Proteinlösung mit einem Humanalbumin-Gehalt von mindestens 95 %)
HyQvia ▼
(Normales Immunglobulin vom Menschen)
Immunate
(Blutgerinnungsfaktor VIII vom Menschen, von-Willebrand-Faktor vom Menschen)
Immunine
(Blutgerinnungsfaktor IX vom Menschen)
Immuseven
(Blutgerinnungsfaktor VII vom Menschen)
Instanyl
(Fentanyl)
Intuniv ▼
(Guanfacinhydrochlorid)
Kiovig
(Normales Immunglobulin vom Menschen)
Lysthenon
(Suxamethoniumchlorid)
Matrifen
(Fentanyl)
Mepact
(Mifamurtid)
Natpar ▼
(Parathyroidhormon (rDNA))
Obizur ▼
(rekombinanten Antihämophiliefaktor VIII, porcine Sequenz Susoctocog alfa)
Pantoprazol
(Pantoprazol)
Pantozol
(Pantoprazol)
Plenadren
(Hydrocortison)
Prothromplex NF
(Prothrombin-Komplex vom Menschen (Blutgerinnungsfaktoren II, VII, IX und X))
Recombinate Antihämophilie Faktor (rekombinant)
(rekombinanter Blutgerinnungsfaktor VIII Octocog alfa)
Replagal
(Agalsidase alfa)
Resolor
(Prucaloprid)
Revestive ▼
(Teduglutid)
Rifun
(Pantoprazol)
Rixubis
(rekombinanter Blutgerinnungsfaktor IX Nonacog gamma)
Sixantone
(Leuprorelinacetat)
Takhzyro ▼
(Lanandelumab)
Trenantone
(Leuprorelinacetat)
Trenantone-Gyn 11,25 mg
(Leuprorelinacetat)
Veyvondi ▼
(rekombinanter von-Willebrand-Faktor Vonicog alfa)
VPRIV
(Velaglucerase alfa)
ZacPac
(Pantoprazol, Amoxicillin, Clarithromycin)
0-9
a
b
c
d
e
f
g
h
i
j
k
l
m
n
o
p
q
r
s
t
u
v
w
x
y
z
Last updated: 17/11/2022