GlaxoSmithKline GmbH & Co. KG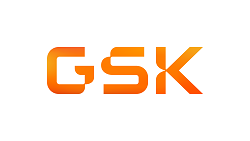 About
GSK ist ein weltweit führendes, forschendes Gesundheitsunternehmen mit dem Anspruch, die Lebensqualität von Menschen zu verbessern, indem wir ihnen ein aktives, längeres und gesünderes Leben ermöglichen. Unser Ziel ist es, eines der weltweit innovativsten, leistungsstärksten und vertrauenswürdigsten Gesundheitsunternehmen zu sein.
GSK setzt Meilensteine in der Prävention durch ein umfassendes Portfolio u.a. an Impfstoffen und in der Therapie der Atemwege.
Address
Prinzregentenplatz 9
81675 München
Tel: + 49 (0) 89 360 44 0

GSK products
Medicinal products marked with▼are subject to additional monitoring. This will allow quick identification of new safety information. You can help by reporting any side effects you may get.
0-9
a
b
c
d
e
f
g
h
i
j
k
l
m
n
o
p
q
r
s
t
u
v
w
x
y
z
ADARTREL
(Ropinirol)
ADCIRCA
(Tadalafil)
ANORO Ellipta ▼
(Umeclidinium+Vilanterol)
atmadisc Diskus
(Fluticasonpropionat+Salmeterol Diskus)
atmadisc Dosier-Aerosol
(Fluticasonpropionat+Salmeterol HFA)
AUGEMENTAN
(Amoxicillin+Clavulansäure)
AVAMYS
(Fluticasonfuroat)
AVODART
(Dutasterid)
BENLYSTA ▼
(Belimumab i.v.)
BENLYSTA SC ▼
(Belimumab s.c.)
BETNESOL-V
(Betamethasonvalerat)
BEXSERO
(Impfstoff Meningokokken Gruppe B (rDNA, Komponenten, adsorbiert))
BOOSTRIS POLIO
(Diphtherie-, Tetanus-, Pertussis (azellulär)-, Poliomyelitis (inaktiviert)-Adsorbatimpfstoff)
BOOSTRIX
(Diphtherie-, Tetanus-, Pertussis (azellulär)-Adsorbatimpfstoff)
CERVARIX
(Humaner Papillomvirus-Impfstoff [Typen 16, 18])
DARAPRIM
(Pyrimethamin)
DERMOXIN
(Clobetasolpropionat)
DERMOXINALE
(Clobetasolpropionat)
DUAC
(Clindamycin+Benzoylperoxid)
DUKORAL
(Impfstoff Vibrio cholerae O1)
DUODART
(Dutasterid+Tamsulosinhydrochlorid)
ELOBACT
(Cefuroxim)
ELONTRIL
(Bupropionhydrochlorid (Depression))
EMOVATE
(Clobetasonbutyrat)
ENCEPUR
(Frühsommer-Meningoenzephalitis (FSME)-Impfstoff (inaktiviert))
ENGERIX-B
(Hepatitis-B (rDNA)-Impfstoff (adsorbiert)(HBV))
EPERZAN ▼
(Albiglutid)
ESKAZOLE
(Albendazol)
FENDRIX
(Hepatitis-B (rDNA)-Impfstoff (adjuvantiert, adsorbiert))
FLUTIDE Diskus
(Fluticasonpropionat Multidose Inhalation Pulver)
FLUTIDE Dosier-Aerosol
(Fluticasonpropionat HFA Inhalation Aerosol)
FLUTIDE Nasal
(Fluticasonpropionat Nasal Spray)
FLUTIVATE
(Fluticasonpropionat cream)
HAVRIX
(Hepatitis-A-Impfstoff (inaktiviert, adsorbiert)(HAV))
IMIGRAN
(Sumatriptan)
INCRUSE Ellipta ▼
(Umeclidinium)
INFANRIX
(Impfstoff DTPa)
INFANRIX HEXA
(Impfstoff DTPa-Hep B-IPV/Hib)
INFANRIX-IPV+HIB
(Impfstoff DTPa-IPV/Hib)
INFLUSPLIT Tetra ▼
(Influenza-Spaltimpfstoff (inaktiviert))
INTEGRILIN
(Eptifibatid)
ISOTREXIN
(Isotretinoin+Erythromycin)
IXIARO
(Japanische-Enzephalitis-Virus Impfstoff (inaktiviert, adsorbiert))
MALARONE
(Atovaquon+Proguanilhydrochlorid)
MENJUGATE
(Impfstoff Neisseria meningitidis Gruppe C CRM197)
MENVEO
(Meningokokken Gruppen A-, C-, W-135- und Y-Konjugat Impfstoff)
PRIORIX
(Masern-Mumps-Röteln-Lebendimpfstoff)
PRIORIX-Tetra
(Masern-Mumps-Röteln-Varizellen-Lebendimpfstoff )
RABIBUR
(Tollwut-Impfstoff, inaktiviert)
RELENZA
(Zanamivir)
RELVAR Ellipta
(Fluticasonfuroat+Vilanterol)
REQUIP
(Ropinirol)
REQUIP-MODUTAB
(Ropinirol Retardtabletten)
ROTARIX
(Rotavirus-Lebendimpfstoff)
SEREVENT
(Salmeterol)
SEROXAT
(Paroxetin)
SHINGRIX ▼
(Herpes Zoster-Impfstoff (rekombinant; adjuvantiert))
SULTANOL Dosier Aerosol
(Salbutamol)
SULTANOL Fertiginhalat
(Salbutamol)
SULTANOL Inhalationslösung
(Salbutamol)
SYNFLORIX
(Pneumokokkenpolysaccharid-Konjugatimpfstoff (adsorbiert))
TETANOL pur
(Tetanus-Toxoid-Adsorbat-Impfstoff)
TOCTINO ▼
(Alitretinoin)
TRELEGY Ellipta ▼
(Fluticasonfuroat+Umeclidinium+Vilanterol)
TURIXIN
(Mupirocin)
TWINRIX
(Hepatitis-A (inaktiviert)- und Hepatitis-B (rDNA)(HAB)-Impfstoff (adsorbiert))
VALTREX
(Valaciclovir)
VARILRIX
(Varizellen-Lebendimpfstoff )
VIANI Diskus
(Fluticasonpropionat+Salmeterol)
VIANI Dosier Aerosol
(Fluticasonpropionat+Salmeterol)
VOLIBRIS
(Ambrisentan)
ZEFFIX
(Lamivudin (Hepatitis B))
ZOVIRAX
(Aciclovir)
ZYBAN
(Bupropionhydrochlorid (Raucherentwöhnung))
0-9
a
b
c
d
e
f
g
h
i
j
k
l
m
n
o
p
q
r
s
t
u
v
w
x
y
z
Last updated: 16/06/2021