Pfizer Deutschland GmbH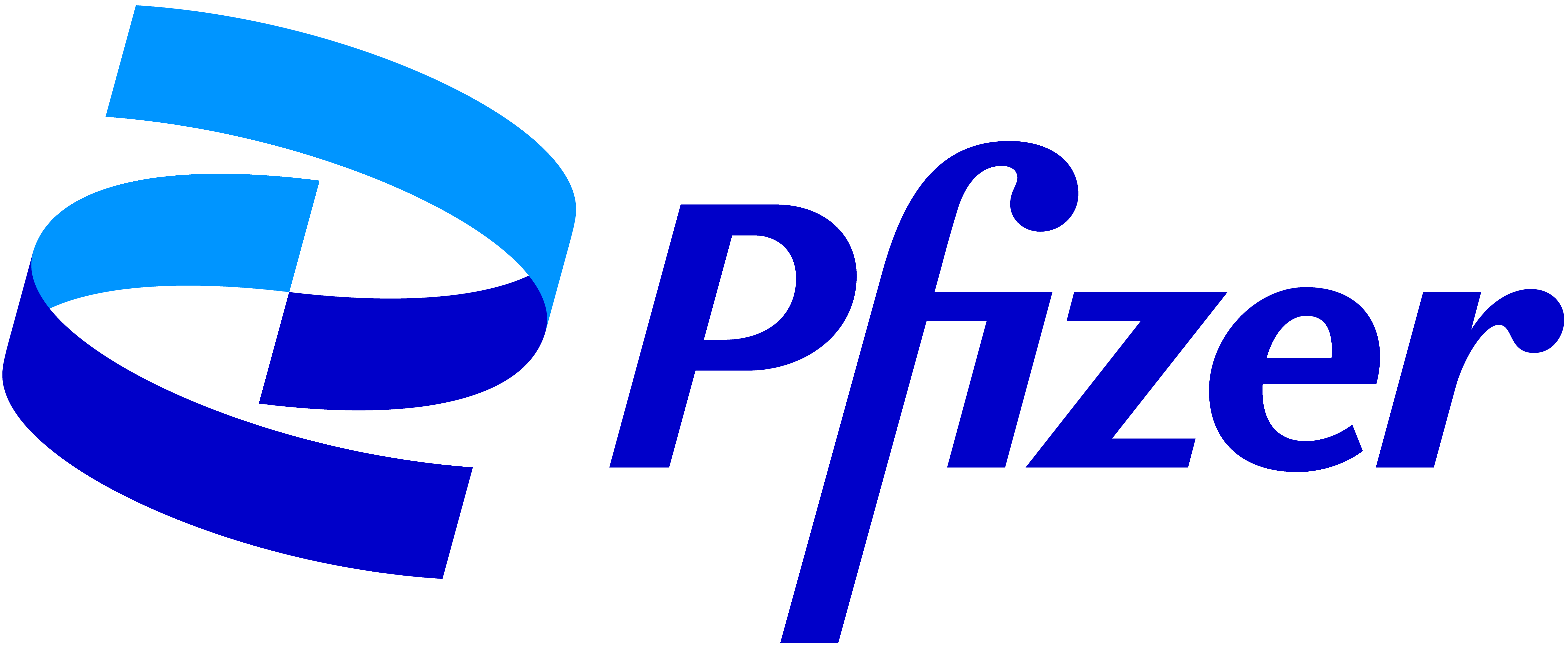 About
Innovative Arzneimittel seit 170 Jahren
Wenn Menschen krank werden, können sich viele Dinge für sie verändern – ein oft schwieriger Weg beginnt. Mehr als 10.000 Forscher und über 90.000 Mitarbeiter arbeiten bei Pfizer daran, Menschen auf diesem Weg zu unterstützen. Sie entwickeln und vertreiben innovative Medikamente und Impfstoffe sowie einige der weltweit bekanntesten rezeptfreien Produkte wie ThermaCare, VitaSprint und Centrum. Zu den Schwerpunkten unserer Forschung gehören unter anderem Krebserkrankungen, Schmerz, Entzündungskrankheiten und Erkrankungen des zentralen Nervensystems. Bei der Entwicklung von neuen Wirkstoffen und Behandlungsmöglichkeiten erschließt die Pfizer-Forschung das große Potenzial von Biotherapeutika und setzt auch auf zielgerichtete und personalisierte Behandlungen. Sie greifen gezielt in den Zellstoffwechsel ein und sind auf die biomolekulare Beschaffenheit der Zellen von bestimmten Patientengruppen ausgerichtet.
In Deutschland beschäftigt Pfizer derzeit rund 2.500 Mitarbeiter an drei Standorten: Berlin, Freiburg und Karlsruhe. In der Unternehmenszentrale von Pfizer Deutschland in Berlin sitzen die Bereiche Humanarzneimittel und Consumer Healthcare. Außerdem steuert Pfizer von Berlin aus die Onkologie für rund 50 Länder – von Europa über Japan und Südkorea bis nach Australien und Neuseeland. In Karlsruhe liegt das Distributionszentrum und in Freiburg werden Arzneimittel für den Weltmarkt produziert und verpackt.
Address
Linkstraße 10
10785 Berlin

Pfizer products
Medicinal products marked with▼are subject to additional monitoring. This will allow quick identification of new safety information. You can help by reporting any side effects you may get.
0-9
a
b
c
d
e
f
g
h
i
j
k
l
m
n
o
p
q
r
s
t
u
v
w
x
y
z
ACCUPRO
(quinaprilhydrochlorid)
ACCUZIDE
(quinapril, hydrochlorothiazide)
APEXXNAR ▼
(pneumococcal 20-valent conjugate vaccine - diphtheria CRM197 protein)
AROMASIN
(exemestane)
ARTHOTEC
(diclofenac, misoprostol)
ATGAM ▼
(horse anti-human T lymphocyte immunoglobulin (eATG))
AZULFIDINE
(sulfasalazine)
BAVENCIO ▼
(avelumab)
BENEFIX
(nonacog alfa)
BESPONSA
(inotuzumab)
BOSULIF
(bosutinib)
CABASERIL
(cabergoline)
CAVERJECT
(alprostadil)
CHAMPIX
(varenicline)
CIBINQO ▼
(abrocitinib)
CONCEPLAN M
(ethinylestradiol, norethisteron)
CRESEMBA
(isavocunazol)
CYKLOKAPRON
(tranexamic acid)
DAUNOBLASTIN
(daunorubicin)
DAURISMO ▼
(glasdegib)
DEMETRIN
(prazepam)
DEPO-CLINOVIR
(medroxyprogesterone)
DIFLUCAN
(fluconazole)
DILZEM
(diltiazem)
DOSTINEX
(cabergoline)
DYNASTAT
(parecoxib-natrium)
ECALTA
(anidulafungin)
ENBREL
(etanercept)
ESTRING
(estradiol)
EXEMESTAN PFIZER
(exemestan)
FARMORUBICIN
(epirubicin)
FEMIGOA
(ethinylestradiol/levonorgestrel)
FRAGMIN
(dalteparin sodium)
FSME-IMMUN
(impfstoff, (inaktivierter ganz-virus-) frühsommer-meningoenzephalitis)
FUNGATA
(fluconazole)
GELONIDA
(paracetamol, codeine)
GENOTROPIN
(somatropin)
HALCION
(triazolam)
HUMATIN
(paromomycin)
HYDROCORTISON
(hydrocortisone)
IBRANCE
(palbociclib)
INFLECTRA
(infliximab)
LANTAREL
(methotrexat-dinatrium)
LEIOS
(ethinylestradiol/levonorgestrel)
LEUCOVORIN
(calciumfolinat)
LONOLOX
(minoxidil)
LORVIQUA ▼
(lorlatinib)
MERONEM
(meropenem)
METHOTREXAT "LEDERLE"
(methotrexat-dinatrium)
MINPROG
(alprostadil)
MINPROSTIN
(dionoproston pge2)
MONO DEMETRIN
(prazepam)
MYCOBUTIN
(rifabutin)
MYLOTARG
(gemtuzumab)
NEISVAC-C
(impfstoff, meningokokken konjugat)
NGENLA ▼
(somatrogon)
NIMENRIX
(impfstoff, acwy meningokokken konjugat)
NIPENT
(pentostatin)
NIVESTIM
(filgrastim)
NYVEPRIA ▼
(pegfilgrastim)
PAXLOVID ▼
(nirmatrelvir/ritonavir)
PETINUTIN
(mesuximide)
PLANUM
(temazepam)
PREPIDIL
(dionoproston pge2)
PREVENAR 13
(vaccine, pneumococcal conjugat)
RAPAMUNE
(sirolimus)
REFACTO AF
(moroctocog alfa)
RETACRIT
(epoetin zeta)
RUXIENCE ▼
(rituximab)
SAB SIMPLEX
(simeticone, dimethicone)
SAYANA
(medroxyprogesterone)
SOBELIN
(clindamycin)
SOMAVERT
(pegvisomant)
STAQUIS ▼
(crisaborole)
SUTENT
(sunitinib)
SYNARELA
(nafarelin)
TALZENNA ▼
(talazoparib)
TAVOR
(lorazepam)
TORISEL
(temsirolimus)
TOVIAZ
(fesoterodine)
TRAZIMERA ▼
(trastuzumab)
TRIGOA
(ethinylestradiol/levonorgestrel)
TRUMENBA
(impfstoff, meningokokken B)
TYGACIL
(tigecycline)
UNACID
(sultamicillin, ampicillin/sulbactam)
VFEND
(voriconazole)
VIZIMPRO ▼
(dacomitinib)
VYDURA ▼
(rimegepant)
VYNDAQEL ▼
(tafamidis)
ZAVEDOS
(idarubicin)
ZAVICEFTA
(ceftazidim/avibactam)
ZINFORO
(ceftarolin)
ZIRABEV ▼
(bevacizumab)
ZITHROMAX
(azithromycin)
ZYVOX
(linezolid)
0-9
a
b
c
d
e
f
g
h
i
j
k
l
m
n
o
p
q
r
s
t
u
v
w
x
y
z
Last updated: 06/01/2023