Merck Sharp & Dohme (UK) Limited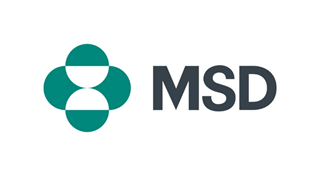 About
For more than a century, MSD, a leading global biopharmaceutical company, has been inventing for life, bringing forward medicines and vaccines for the world's most challenging diseases. MSD is a trade name of Merck & Co., Inc., with headquarters in Kenilworth, N.J., U.S.A. Through our prescription medicines, vaccines and biologic therapies and animal health products, we work with customers and operate in more than 140 countries to deliver innovative health solutions.
Address
120 Moorgate, London EC2M 6UR

MSD products
Medicinal products marked with▼are subject to additional monitoring. This will allow quick identification of new safety information. You can help by reporting any side effects you may get.
0-9
a
b
c
d
e
f
g
h
i
j
k
l
m
n
o
p
q
r
s
t
u
v
w
x
y
z
Delstrigo ▼
(doravirine, lamivudine, tenofovir disoproxil fumarate)
Gardasil 9
(human papillomavirus 9-valent vaccine)
HBVaxPRO
(hepatitis B vaccine (recombinant DNA))
Invanz
(ertapenem)
Isentress
(raltegravir potassium)
IVEmend
(fosaprepitant dimeglumine )
Janumet
(sitagliptin, metformin)
M-M-RVaxPRO
(measles, mumps and rubella vaccine (live))
OncoTICE
(Tice Bacillus Calmette-Guérin [BCG])
Pifeltro ▼
(doravirine )
Pneumovax 23
(pneumococcal polysaccharide vaccine)
Prevymis ▼
(letermovir)
Primaxin IV
(imipenem, cilastatin)
Recarbrio ▼
(imipenem, cilastatin, relebactam)
Simponi
(golimumab)
Sivextro
(tedizolid phosphate)
Steglatro ▼
(ertugliflozin)
Vaqta
(hepatitis A vaccine, inactivated, adsorbed)
Varivax
(varicella vaccine (live))
Vaxneuvance ▼
(pneumococcal polysaccharide conjugate vaccine (15-valent, adsorbed))
Zepatier ▼
(elbasvir, grazoprevir)
Zerbaxa
(ceftolozane, tazobactam)
Zostavax
(shingles (herpes zoster) vaccine (live))
0-9
a
b
c
d
e
f
g
h
i
j
k
l
m
n
o
p
q
r
s
t
u
v
w
x
y
z
Last updated: 07/06/2023