Pfizer Ltd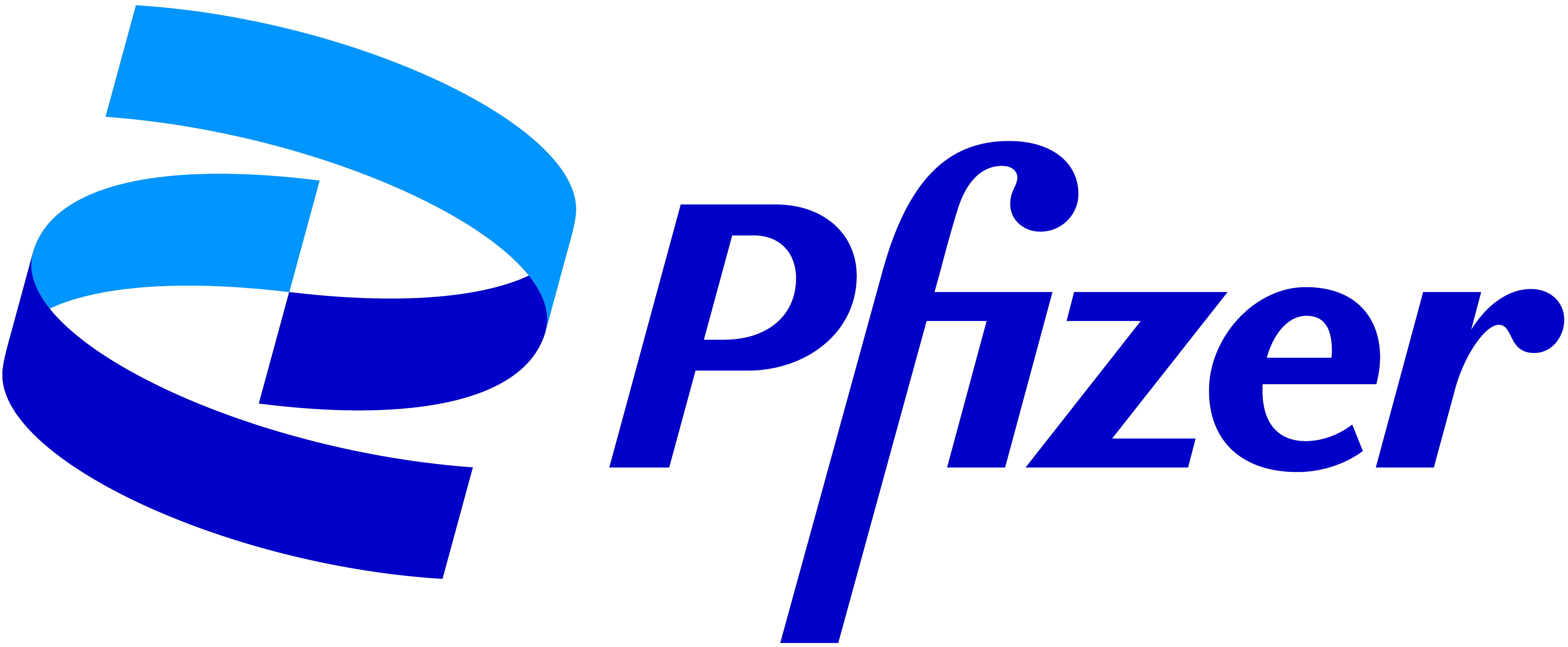 About
Pfizer is one of the world's premier innovative biopharmaceutical companies, discovering, developing and providing over 160 different medicines, vaccines and consumer healthcare products to help improve the lives of millions of people in the UK and around the world every year.
Address
Walton Oaks,
Dorking Road,
Tadworth,
Surrey,
KT20 7NS

Contact details
Medical Information phone number
+44-(0)1304-616 161
Hours of operation
Mon - Friday between 9 AM and 5 PM
Medical Information email
medical.information@pfizer.com
Click to chat

Chat Online
Adverse events and product complaints
If you are taking a medicine and experience any side effects, you should immediately report these to your doctor or pharmacist, to another healthcare professional (such as a nurse or carer) or to the company that produced your medicine. Reporting forms and information can be found at www.mhra.gov.uk/yellowcard. To report a side effect or product complaint to Pfizer, please call 01304 616161.
Company website
https://www.pfizer.co.uk
Medical Information website for healthcare professionals
https://www.pfizermedicalinformation.co.uk
Submit medical enquiry for healthcare professionals
www.pfizermedinfo.co.uk/en-gb/medical-enquiry
Submit medical enquiry for general public
https://www.pmiform.com/cons/uk
Pfizer products
Medicinal products marked with▼are subject to additional monitoring. This will allow quick identification of new safety information. You can help by reporting any side effects you may get.
0-9
a
b
c
d
e
f
g
h
i
j
k
l
m
n
o
p
q
r
s
t
u
v
w
x
y
z
ACCUPRO
(quinapril HCl)
ACCURETIC
(quinapril HCl, hydrochlorothiazide)
ACICLOVIR
(acyclovir sodium)
ALDACTIDE
(spironolactone, hydroflumethiazide)
ALDACTONE
(spironolactone)
AMIKACIN
(amikacin sulfate)
AROMASIN
(exemestane)
ARTHROTEC
(misoprostol, diclofenac sodium)
ATGAM ▼
(horse anti-human T lymphocyte immunoglobulin (eATG))
ATIVAN
(lorazepam)
ATRACURIUM BESILATE
(atracurium besilate)
BACTERIOSTATIC SALINE FOR INJECTION
(sodium chloride)
BACTERIOSTATIC WATER FOR INJECTION
((water for injection))
BAVENCIO ▼
(avelumab)
BAVENCIO-axitinib ▼
(avelumab-axitinib)
BENEFIX
(nonacog alfa)
BESPONSA ▼
(inotuzumab ozogamicin)
BOSULIF
(bosutinib)
BREVINOR
(norethisterone acetate, ethinyl estradiol)
CABASER
(cabergoline)
CALCIUM FOLINATE
(calcium folinate)
CAMPTO
(irinotecan HCl)
CARBOPLATIN
(carboplatin)
CAVERJECT
(alprostadil)
CHAMPIX
(varenicline tartrate)
CIBINQO ▼
(abrocitinib)
CIPROFLOXACIN
(ciprofloxacin)
CISPLATIN
(cisplatin)
COLESTID
(colestipol HCl)
COMIRNATY COVID-19 mRNA vaccine ▼
(tozinameran) and (tozinameran / riltozinameran)
CRESEMBA
(isavuconazole)
CYKLOKAPRON
(tranexamic acid)
CYTARABINE
(cytarabine)
CYTARABINE HOSPIRA
(cytarabine)
CYTOTEC
(misoprostol)
DALACIN C
(clindamycin HCl)
DALACIN C Phosphate Sterile Solution
(clindamycin phosphate)
DALACIN CREAM
(clindamycin phosphate)
DALACIN T
(clindamycin phosphate)
DAURISMO ▼
(glasdegib)
DEPO-MEDRONE
(methylprednisolone acetate)
DEPO-MEDRONE WITH LIDOCAINE
(methylprednisolone acetate, lidocaine HCl)
DEPO-PROVERA
(medroxyprogesterone acetate)
DESFERRIOXAMINE MESILATE
(deferoxamine mesylate)
DEXAMETHASONE
(dexamethasone sodium phosphate)
DIFLUCAN
(fluconazole)
DOCETAXEL HOSPIRA
(docetaxel)
DOPAMINE
(dopamine hydrochloride)
DOSTINEX
(cabergoline)
DOXORUBICIN
(doxorubicin HCl)
DUAVIVE
(conjugated estrogens/bazedoxifene)
DYNASTAT
(parecoxib)
ECALTA
(anidulafungin)
EDRONAX
(reboxetine)
ELIQUIS (CO-PROMOTED BMS)
(apixaban)
ENBREL
(etanercept)
ESTRACYT
(estramustine sodium phosphate)
ESTRING
(estradiol)
EXEMESTANE
(exemestane)
FASIGYN
(tinidazole)
FELDENE
(piroxicam)
FLUOROURACIL
(fluorouracil)
FRAGMIN
(dalteparin sodium)
GEMCITABINE
(gemcitabine hydrochloride)
GENOTROPIN
(somatropin)
GENTAMICIN
(gentamicin sulfate)
GLYCERYL TRINITRATE
(glyceryl trinitrate)
HEMABATE
(carboprost trometamol)
IBRANCE
(palbociclib)
INFLECTRA
(infliximab)
INLYTA
(axitinib)
IRINOTECAN HYROCHLORIDE
(irinotecan hydrochloride)
ISOVORIN
(levoleucovorin calcium)
LEVETIRACETAM HOSPIRA
(levetiracetam)
LEVOFLOXACIN
(levofloxacin)
LINEZOLID
(linezolid)
LONITEN
(minoxidil)
LOPID
(gemfibrozil)
LORVIQUA ▼
(lorlatinib)
MAXTREX
(methotrexate)
MEDRONE
(methylprednisolone)
MERONEM
(meropenem)
METHOTREXATE
(methotrexate)
MINODIAB
(glipizide)
MITOXANTRONE
(mitoxantrone)
MYCOBUTIN
(rifabutin)
MYLOTARG ▼
(gemtuzumab ozogamicin)
NEISVAC-C
(meningococcal group C polysaccharide conjugate vaccine adsorbed)
NIMENRIX
(meningococcal group ACWY polysaccharide conjugate vaccine adsorbed)
NIPENT
(pentostatin)
NIVESTIM
(filgrastim)
NORADRENALINE
(norepinephrine)
NORIDAY
(norethisterone)
NORIMIN
(norethisterone acetate, ethinyl estradiol)
NORINYL-1
(norethisterone, mestranol)
OCTREOTIDE HOSPIRA
(octreotide acetate)
OLBETAM
(acipimox)
OVRANETTE
(levonorgestrel, ethinyl estradiol)
OXALIPLATIN HOSPIRA
(oxaliplatin)
PACLITAXEL
(paclitaxel)
PAMIDRONATE DISODIUM
(pamidronate disodium)
PANCURONIUM BROMIDE
(pancuronium bromide)
PAXLOVID ▼
(nirmatrelvir/ritonavir)
PHARMORUBICIN
(epirubicin HCl)
PHENYTOIN
(phenytoin sodium)
PREMARIN
(conjugated estrogens)
PREMIQUE LOW DOSE
(conjugated estrogens and medroxyprogesterone acetate)
PREVENAR 13
(pneumococcal 13-valent conjugate vaccine - diphtheria CRM197 protein)
PRO-EPANUTIN
(fosphenytoin sodium)
PROSTIN E2
(dinoprostone)
PROSTIN VR
(alprostadil)
PROVERA
(medroxyprogesterone acetate)
RAPAMUNE
(sirolimus)
REFACTO AF
(moroctocog alfa)
REFOLINON
(calcium folinate)
REMIFENTANIL
(remifentanil hydrochloride)
RETACRIT
(epoetin zeta)
RUXIENCE ▼
(rituximab)
SALAZOPYRIN
(sulfasalazine)
SAYANA
(medroxyprogesterone acetate)
SOLU-CORTEF
(hydrocortisone sodium succinate)
SOLU-MEDRONE
(methylprednisolone sodium succinate)
SOMAVERT
(pegvisomant)
STAQUIS ▼
(crisaborole)
STERILE WATER FOR INJECTION
(water for injection)
SUTENT
(sunitinib malate)
SYNAREL
(nafarelin acetate)
SYNPHASE
(norethisterone acetate, ethinyl estradiol)
TALZENNA ▼
(talazoparib)
TAZOCIN
(piperacillin, tazobactam)
TICOVAC
(tick-borne encephalitis vaccine, whole virus, inactivated)
TICOVAC JUNIOR
(tick-borne encephalitis vaccine, whole virus, inactivated)
TOBRAMYCIN
(tobramycin)
TOMUDEX
(raltitrexed disodium)
TOPOTECAN HOSPIRA
(topotecan)
TORISEL
(temsirolimus)
TOVIAZ
(fesoterodine fumarate)
TRAZIMERA ▼
(trastuzumab)
TROSYL
(tioconazole)
TRUMENBA ▼
(meningococcal serogroup B vaccine)
TYGACIL
(tigecycline)
VESIERRA
(esketamine)
VFEND
(voriconazole)
VIBRAMYCIN
(doxycycline monohydrate)
VINBLASTINE SULPHATE
(vinblastine sulfate)
VINCRISTINE SULPHATE
(vincristine sulfate)
VIZIMPRO ▼
(dacomitinib)
VORICONAZOLE PFIZER
(voriconazole)
VYDURA ▼
(rimegepant)
VYNDAQEL ▼
(tafamidis meglumine)
ZAVEDOS
(idarubicin HCl)
ZAVICEFTA
(ceftazidime, avibactam)
ZINFORO
(ceftaroline fosamil)
ZITHROMAX
(azithromycin)
ZOTON FASTAB
(lansoprazole)
ZYVOX
(linezolid)
0-9
a
b
c
d
e
f
g
h
i
j
k
l
m
n
o
p
q
r
s
t
u
v
w
x
y
z
Last updated: 05/12/2022