Pfizer Healthcare Ireland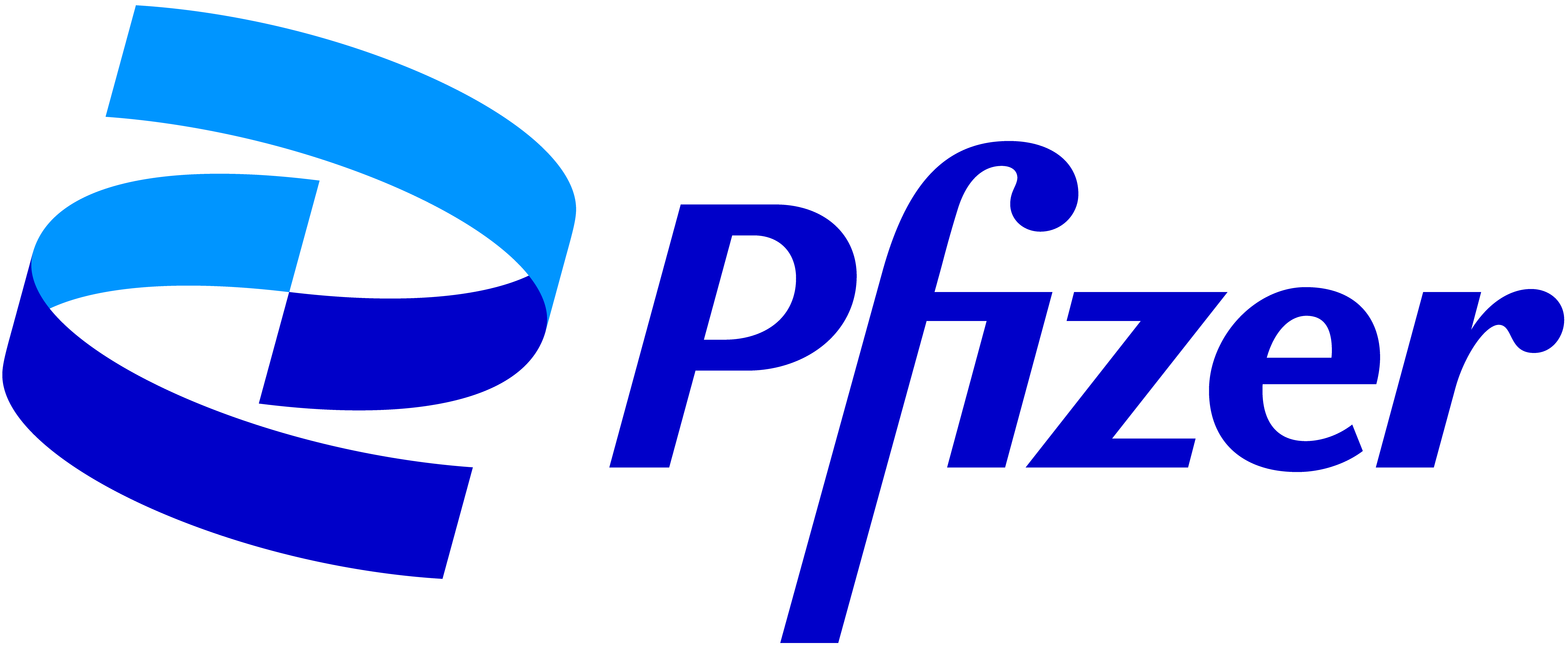 About
Pfizer medicines help over 150 million people a year worldwide. Our goal at Pfizer is to discover and develop innovative medicines, help make them available to patients, share health information, and partner on public health programmes. Our portfolio of medicines covers a wide range of therapeutic areas and conditions from cardiovascular disease to pituitary conditions, and we are working all the time to bring new innovative, life-saving medicines to patients.
Address
9 Riverwalk,
National Digital Park,
Citywest Business Campus,
Dublin 24

Contact details
Medical Information phone number
1 800 633 363
Hours of operation
Mon - Fri 9am - 5pm
Medical Information website
http://www.pfizermedicalinformation.ie
Medical Information email
medical.information@pfizer.com
Adverse events and product complaints
If you are concerned that you have had a side effect to a Pfizer medicine, contact your doctor, nurse or pharmacist. You should also report the suspected side effect directly to the Health Products Regulatory Authority (HPRA) or Pfizer (call 1800 633 363).

To report a product complaint, call Pfizer on 1800 633 363.
Pfizer Company website
https://www.pfizer.ie
Pfizer products
Medicinal products marked with▼are subject to additional monitoring. This will allow quick identification of new safety information. You can help by reporting any side effects you may get.
0-9
a
b
c
d
e
f
g
h
i
j
k
l
m
n
o
p
q
r
s
t
u
v
w
x
y
z
ACCUPRO
(quinapril HCl)
ACCURETIC
(quinapril HCl, hydrochlorothiazide)
ACICLOVIR
(aciclovir sodium )
ALDACTONE
(spironolactone)
APEXXNAR ▼
(pneumococcal 20-valent conjugate vaccine - diphtheria CRM197 protein)
ARICEPT
(donepezil HCl)
AROMASIN
(exemestane)
ARTHROTEC
(misoprostol, diclofenac sodium)
ATIVAN
(lorazepam)
BAVENCIO ▼
(avelumab)
BENEFIX
(nonacog alfa)
BESPONSA
(inotuzumab ozogamicin)
BOSULIF
(bosutinib monohydrate)
CABASER
(cabergoline)
CAMPTO
(irinotecan HCl)
CAVERJECT
(alprostadil)
CENTRAX
(prazepam)
CHAMPIX
(varenicline tartrate)
CIBINQO ▼
(abrocitinib)
CISPLATIN
(cisplatin)
COMIRNATY COVID-19 mRNA vaccine ▼
(tozinameran) and (tozinameran / riltozinameran) and (tozinameran / famtozinameran)
CONBRIZA
(bazedoxifene acetate)
CRESEMBA
(isavuconazole)
CYKLOKAPRON
(tranexamic acid)
CYTARABINE
(cytarabine)
CYTOTEC
(misoprostol)
DALACIN
(clindamycin phosphate)
DALACIN C CAPSULE
(clindamycin HCl)
DAURISMO ▼
(glasdegib)
DEPO-MEDRONE
(methylprednisolone acetate)
DEPO-MEDRONE WITH LIDOCAINE
(methylprednisolone acetate, lidocaine HCl)
DEPO-PROVERA
(medroxyprogesterone acetate)
DEXAMETHASONE PHOSPHATE
(dexamethasone sodium phosphate)
DIFLUCAN
(fluconazole)
DOPAMINE HYDROCHLORIDE
(dopamine hydrochloride)
DOSTINEX
(cabergoline)
DYNASTAT
(parecoxib)
ECALTA
(anidulafungin)
EDRONAX
(reboxetine)
ELIQUIS
(apixaban)
ENBREL
(etanercept)
FELDENE
(piroxicam)
FLUOROURACIL
(fluorouracil sodium)
FOLINIC ACID
(calcium folinate)
GLYCERYL TRINITRATE
(glyceryl trinitrate)
IBRANCE
(palbociclib)
INFLECTRA
(infliximab)
LONITEN
(minoxidil)
LOPID
(gemfibrozil)
MERONEM
(meropenem trihydrate)
METHOTREXATE
(methotrexate )
MINULET
(gestodene, ethinyl estradiol)
MITOXANTRONE
(mitoxantrone HCl)
MYCOBUTIN
(rifabutin)
MYLOTARG
(gemtuzumab ozogamicin)
NGENLA ▼
(somatrogon)
NIMENRIX
(meningococcal Group ACWY polysaccharide  conjugate vaccine)
NIPENT
(pentostatin)
NIVESTIM
(filgrastim )
NORADRENALINE (NOREPINEPHRINE)
(norepinephrine tartrate )
NORIDAY
(norethisterone)
OCTREOTIDE
(octreotide acetate )
OVRANETTE
(levonorgestrel, ethinyl estradiol)
PANCURONIUM BROMIDE
(pancuronium bromide )
PAXLOVID ▼
(nirmatrelvir/ritonavir)
PREMARIN
(conjugated estrogens)
PREVENAR 13
(pneumococcal 13-valent conjugate vaccine - diphtheria CRM197 protein)
PRO-EPANUTIN
(fosphenytoin sodium)
PROSTIN
(dinoprostone)
PROVERA
(medroxyprogesterone acetate)
RAPAMUNE
(sirolimus)
RETACRIT
(epoetin zeta )
SALAZOPYRIN
(sulfasalazine)
SOLU-CORTEF
(hydrocortisone sodium succinate)
SOLU-MEDRONE
(methylprednisolone sodium succinate)
SOMAVERT
(pegvisomant)
SUTENT
(sunitinib malate)
SYNAREL
(nafarelin acetate)
TALZENNA ▼
(talazoparib)
TICOVAC 0.5 ml
(tick-borne encephalitis vaccine, whole virus, inactivated)
TICOVAC JUNIOR 0.25 ml
(tick-borne encephalitis vaccine, whole virus, inactivated)
TOBRAMYCIN
(tobramycin )
TORISEL
(temsirolimus)
TOVIAZ
(fesoterodine fumarate)
TRAZIMERA ▼
(trastuzumab)
TROSYL
(tioconazole)
TRUMENBA
(meningococcal serogroup B vaccine)
TYGACIL
(tigecycline)
VFEND
(voriconazole)
VIBRAMYCIN
(doxycycline calcium or doxycycline hyclate or doxycycline monohydrate)
VINBLASTINE SULPHATE
(vinblastine sulfate )
VINCRISTINE SULPHATE
(vincristine sulfate )
VIZIMPRO ▼
(dacomitinib)
VYDURA ▼
(rimegepant)
VYNDAQEL ▼
(tafamidismeglumin)
ZAVEDOS
(idarubicin HCl)
ZAVICEFTA
(ceftazidime, avibactam)
ZINFORO
(ceftaroline fosamil)
ZIRABEV ▼
(bevacizumab)
ZITHROMAX
(azithromycin)
ZOTON FASTAB
(lansoprazole)
ZYVOX
(linezolid)
0-9
a
b
c
d
e
f
g
h
i
j
k
l
m
n
o
p
q
r
s
t
u
v
w
x
y
z
Last updated: 06/01/2023